This section should be self explanatory, but for clarity anytime the DNS lookup button is submitted a Whois/DNS lookup is done for the domain variable parsed from the domain or email address field. This helps you spot if the issue you working on is actually on the server you think it is and also provided insight to know if domain is using a Proxy like Sucuri/Cloudflare/Quic.cloud WAF which could be causing a problem.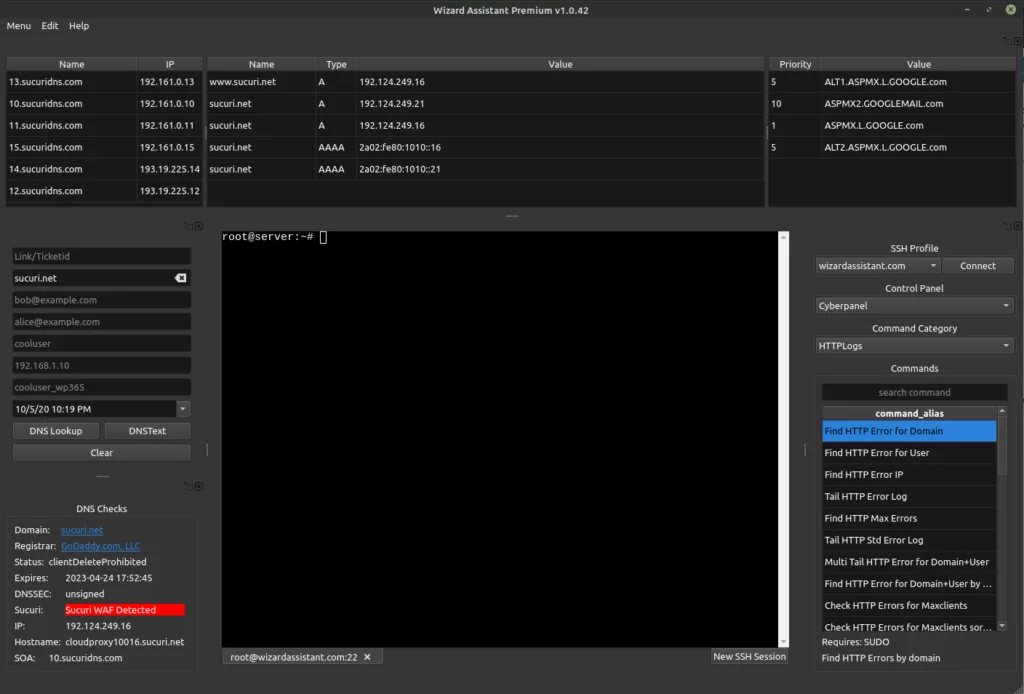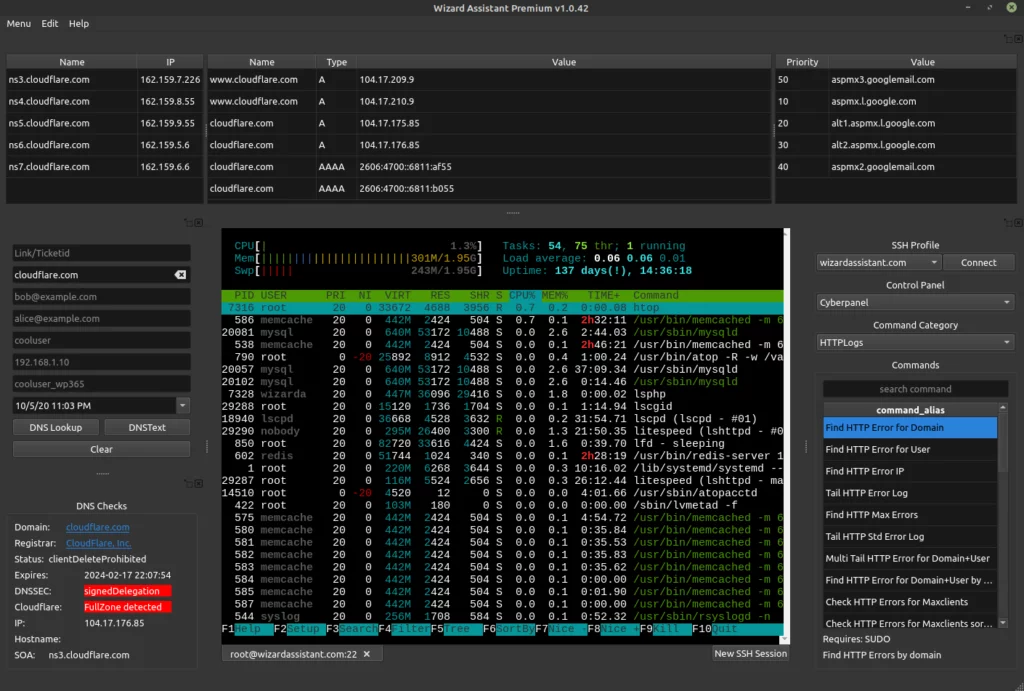 For PTR/RDNS lookups of a specific IP this can be done by entering the IP in form field IP field and hitting DNS Lookup.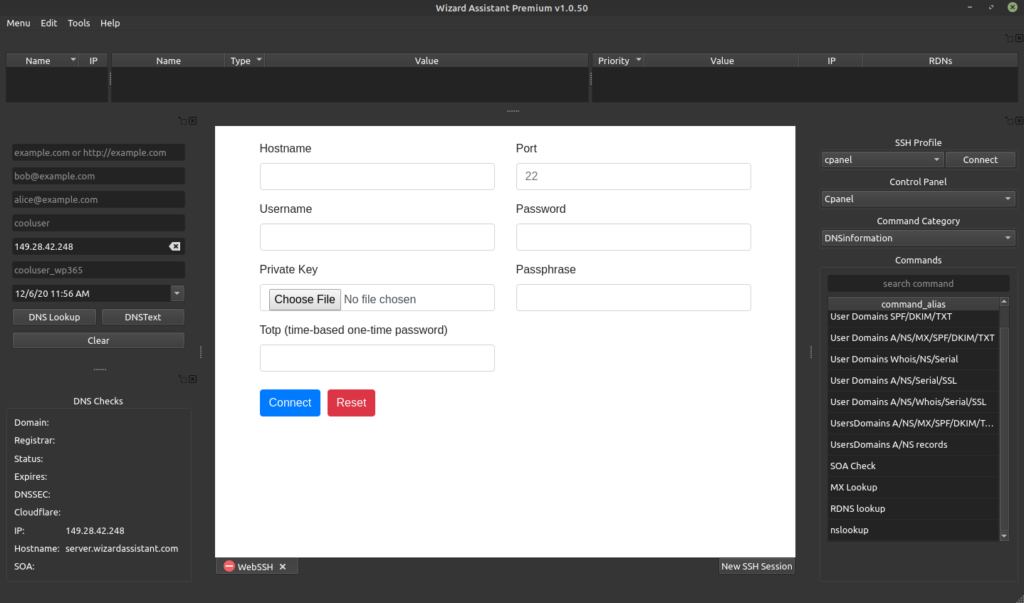 The DNSText Button to the right of DNS Lookup button is a premium feature which outputs a fancy text format of all available DNS records including TXT/SPF/DKIM/DMARC and WHOIS information. This is great for taking a timestamped snapshot of the DNS at the time you viewed it for ticket notes when you want to see if anything has changed since before or how it was prior.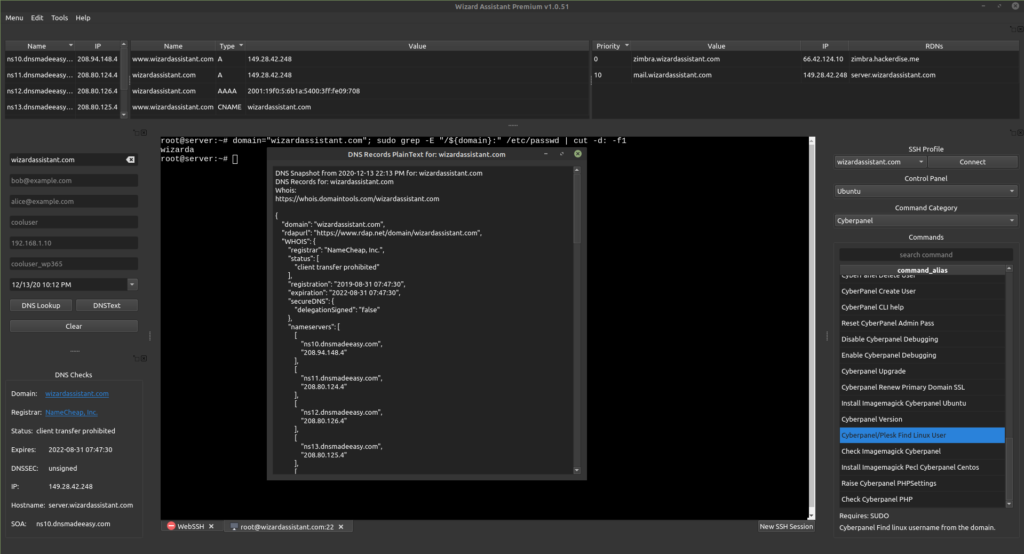 The DNS Checks section special notes:
The domain hyperlink opens the domain in your default browser.
The registrar hyperlink opens the domain in whois.domaintools site for easily checking WHOIS or sharing whois information.
The status is the domain registrar's status if detected. Not all registrars have a status so this could be blank for some like .eu .com.au etc.
The expires will show in red if expired to instantly alert you to the fact a domain is expired. Please note not all registrars have expiration in the whois so it is possible for this to be blank so when in doubt check the whoisdomains tools link.
The DNSSEC check shows if the domain has DNSSEC aka secureDNS enabled via a DS record at the registrar. If having DNS issues after domain transfer and this was not toggled off first this can cause issues which is what this check is for.
IP: Is for the main A record for the site.
Hostname shows the PTR/RDNS for the detected IP if available. For some IP's like Cloudflare's they intentionally have no records set so this may show as empty and its not a defect.
SOA shows the Serial of Authority nameserver. This is also a handy way to sometimes find the host or server IP.